Starting in Fiscal Year 2014, ESMAP transitioned to a three-year business plan cycle.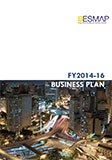 This Business Plan sets out ESMAP's objectives, priorities, strategies, and resource requirements for FY2014‐16 (i.e., July 2013 to June 2016). It draws on experience gained in implementing the previous Business Plan (ESMAP Strategic Business Plan 2008‐2013), consultations with the Consultative Group of donors, advice from the Technical Advisory Group, conclusions and recommendations of the External Evaluation of ESMAP conducted in 2011‐2012, and lessons learned from the annual ESMAP Portfolio Review.
Looking ahead, in the context of a rapidly changing global energy landscape, the primary objective for the international community is to achieve progress on the triple challenge of providing increased energy supply and security, eliminating energy poverty, and mitigating and adapting to climate change. Clearly, this can only be achieved with transformative changes in the design and management of national and regional energy systems and global efforts.
The proposed Business Plan will be based on the following principles:
Help shape the future.

Measure results and demonstrate impacts.

Provide value for money.

Ensure relevance to the Bank's country sector dialogue and lending operations.

Working across sectors.

Scaling‐up to respond to increased client demand.

Increase support to low‐income countries, while maintaining engagement with middle‐income countries; and

Strengthen cooperation with other multilateral and bilateral development agencies