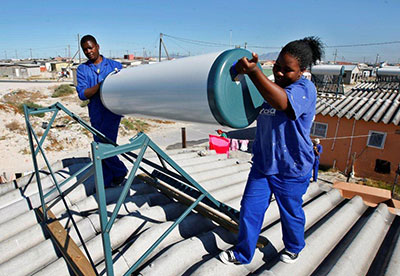 A growing number of developing countries are seeking to adopt low carbon development pathways to achieve green growth, reduce their dependency on fossil fuels, and contribute to global efforts on climate change mitigation.
Since 2007 ESMAP has provided support for World Bank engagement in over 10 countries on low carbon development, ranging from long-term economy-wide analytical work to the assessment of implementation options for greenhouse gas (GHG) emissions abatement in specific sectors.
This work has generated a wealth of knowledge, experience and tools which can help inform low carbon development planning in other countries, or regions within countries. These are freely provided by ESMAP for the benefit of future or ongoing low carbon studies.
More recently, ESMAP has published Planning for a Low Carbon Future | Lessons Learned from Seven Country Studies, a practical guide for government officials, practitioners, and development agencies involved in low carbon development planning that draws on the first seven country studies carried out by the World Bank in this area.
Image: Nic Bothma, with permission from SouthSouthNorth
---
Country Studies
The outputs from seven country studies are available below—including full reports and a series of briefing notes. Additional countries will be added once the outputs become available.
---
Related Resources
Below is a small selection of web resources for those interested in low carbon development planning.
Related Links
Clean Energy > Low Carbon Development