ESMAP Monthly E-Bulletin February 2013 Issue
A Bridge to a Sustainable Energy Future
PROGRAM HIGHLIGHTS
---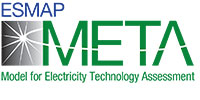 Integrating Externalities into Electricity Supply Decisions | META Catches On
Price volatility, increasing demand, climate pressures, and a growing range of choices have made deciding on electricity supply options a very complex exercise for policymakers. The Model for Electricity Technology Assessment (META), developed by ESMAP, is intended to help negotiate this difficult terrain. META provides a comparative assessment of levelized costs for a range of electricity supply options, including renewable energy. One of the most prominent features of the model is that it integrates environmental externalities, including the health costs of pollution and international carbon prices.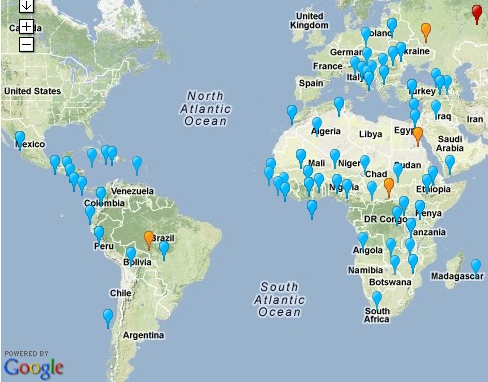 ESMAP Activity Database Now Available Online
A comprehensive database of ESMAP's activities and information from ESMAP's monitoring and evaluation system is now online as part of a new Results section on ESMAP's website. This includes details of the hundreds of ESMAP-supported activities around the world undertaken during the Program's FY2008-2013 Strategic Business Plan. Users can search for ESMAP activities through a map interface, by keyword, or by category. This section also includes a description of the methodology and indicators ESMAP uses to monitor and evaluate its activities.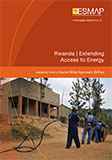 Report | Extending Access to Energy in Rwanda
In recent years, different approaches to providing aid have emerged. The sector-wide approach (SWAp) is a country-led, results-focused framework that brings together development partners and other stakeholders to coordinate aid within a sector. A just-published ESMAP report provides a number of key lessons realized from the Rwanda Energy SWAp for development partners and governments considering using such an approach. Overall, the experience in Rwanda shows that SWAps in the energy sector can achieve success. Access to energy within the country has increased and more than US$ 200 million has been raised toward the costs of the electrification program.
ESMAP Featured in World Bank Trust Fund Annual Report
ESMAP was highlighted in the World Bank's recently published 2012 Trust Fund Annual Report as an example of a trust fund that had "fostered innovation in development." It noted that ESMAP's approaches to efficient and sustainable energy development has been scaled up in recent years through US$ 14 billion in World Bank Group lending. Use the link below to download the report; information about ESMAP can be found on page 17.
The Energy Sector Management Assistance Program (ESMAP) is a global knowledge and technical assistance partnership administered by the World Bank and funded by Australia, Austria, Denmark, Finland, France, Germany, Iceland, Lithuania, the Netherlands, Norway, Sweden, and the United Kingdom, as well as the World Bank.
ESMAP's mission is to assist clients—-low and middle income countries—-to increase know-how and institutional capacity to achieve environmentally sustainable energy solutions for poverty reduction and economic growth.For more information about the Energy Sector Management Assistance Program, please visit www.esmap.org.
Read all E-Bulletins
Banner Photo Credits: stock.xchng (left and right); Jamie Seno / Lighting Africa / World Bank (center)