SIDS DOCK Support Program for Small Island Developing States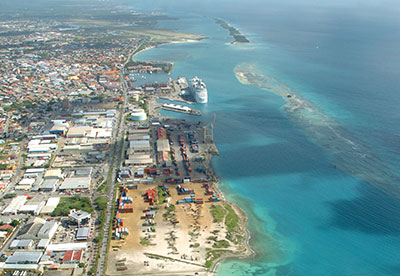 Small Island Developing States (SIDS) are often highly dependent on imported petroleum products to meet their energy needs, including electricity generation. As a result many SIDS experience high and often rising costs for electricity, supply interruptions, as well as vulnerability to oil price shocks. Many SIDS are now looking to transition to more sustainable energy sectors, where improved energy efficiency and renewable energy play an increasing role.
SIDS DOCK is an initiative among member countries of the Alliance of Small Island States (AOSIS) to help SIDS transform their energy sectors and address adaptation to climate change.
---
SIDS-DOCK Support Program
To help meet these challenges, ESMAP joined with the United Nations Development Program (UNDP), AOSIS, and the Government of Denmark to establish the SIDS DOCK Support Program in 2011. The program provides grants to SIDS DOCK members focusing on two outcomes:
Creating an enabling regulatory and institutional environment to remove barriers on the implementation of renewable energy and energy efficiency policy reforms, based on international best practices.

Implementation of renewable and energy efficiency projects that demonstrate the potential for scale-up through climate finance and other sources of funding.
---
Project Portfolio
In September 2011, the Government of Denmark approved a contribution of DKK 38,400,000 to the SIDS DOCK Support Program Multi-Donor Trust Fund (MDTF) to be administered by ESMAP (SIDS DOCK MDTF). Under the Program, ESMAP provides grants to SIDS DOCK members to support analytical and advisory activities, as well as some investments, for their Renewable Energy (RE) and Energy Efficiency (EE) initiatives. There is currently a pipeline of about US$3.5 million supporting six clean energy activities in the Caribbean, Pacific and Africa regions.
An additional US$1.02 million is a package of Bank-executed technical assistance requested by SIDS to stimulate private investment in renewable energy and energy efficiency. It includes analytical work to explore options for financing mechanisms to catalyze RE and EE investments, the establishment of a virtual knowledge exchange network, the organization of an innovation competition to showcase successful EE and RE initiatives with potential for scaling up, and the SIDS DOCK platform building project related to feasibility assessment of sustainability of SIDS DOCK.
Of the ten projects, seven are Bank-executed, two are Recipient-executed, and one is a combination of Bank-executed and Recipient-executed activities. As of December 2013, two of these have been completed.
---
News | Events | Blogs | Publications
Helping Dominica Make the Shift to Geothermal Energy
ESMAP | SIDS DOCK Support Program for Small Island Developing States