The World Bank—through ESMAP and the Energy and Extractives Global Practice—hosts the SE4ALL Global Knowledge Hub, which will facilitate the creation, enhancement, and exchange of knowledge for the overall initiative. Work under the Knowledge Hub will focus on two areas: (i) research that supports implementation of SE4ALL initiatives through frameworks that track and monitor progress and provide feedback; and (ii) knowledge management work that collects information and data around key policy experiences and cases, and makes it readily accessible to policy- and decision-makers.
This is one of a number of regional and thematic hubs established by SE4ALL: it is designed to facilitate the creation, enhancement, and exchange of knowledge for the overall initiative. The SE4ALL Knowledge Hub comprises four main initiatives:
 

The multi-tier approach goes beyond the traditional binary measurement of access—for example, comparing those that have an electricity connection with those who do not—to a measurement approach that reflects all aspects of energy supply. Under this approach, energy access is determined by examining how a household's electricity and cooking technology measure up against the following eight attributes: capacity; duration and availability; reliability; quality; affordability; legality; convenience; and health and safety.

 

Readiness for Investment in Sustainable Energy (RISE), developed by the World Bank Group, is a suite of indicators that assesses the legal and regulatory environment for investment in sustainable energy. It establishes a framework for better depicting the national enabling environment to attract investment into sustainable energy

 
 

 

The Global Tracking Framework, a joint effort of the World Bank Group and 13 other agencies, tracks the world's progress towards the three SE4ALL goals to be achieved by 2030: 1) universal access to modern energy services; 2) double the global rate of improvement in energy efficiency; 3) double the share of renewable energy in the global energy mix. The first edition of the Global Tracking Framework was released in May 2013. That report tracked the world's progress between 1990 and 2010. The latest edition was

published and launched in 2015.

 

The State of Energy Access Report will provide a comprehensive and detailed review of the current status and emerging trends in energy access, along with a review of best practices, complementing the RISE indicators and the data-driven analysis of the Global Tracking Framework.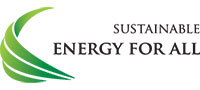 ESMAP | Energy Access | Sustainable Energy for All (SE4ALL) | SE4ALL Technical Assistance | SE4ALL Knowledge Hub