A Virtuous Cycle: How Clean Cooking Projects Can Empower Women and Help Close Gender Gaps | March 17, 2022
Events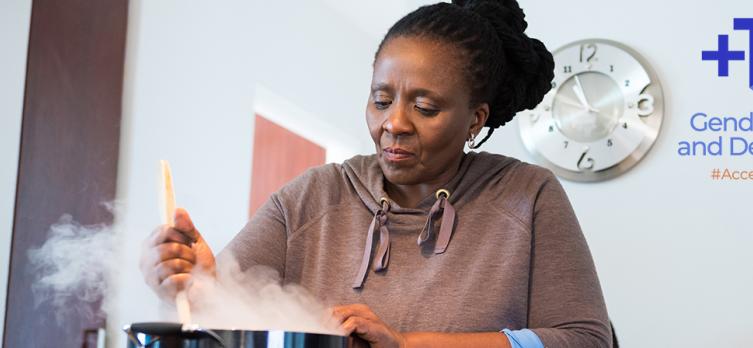 PAST EVENT | A Virtuous Cycle: How Clean Cooking Projects Can Empower Women and Help Close Gender Gaps | March 17, 2022
Venue: VIRTUAL
The World Bank's Energy Sector Management Assistance Program (ESMAP), on the occasion of the Commission on the Status of Women (CSW66), held the event: A Virtuous Cycle: How Clean Cooking Projects Can Empower Women and Help Close Gender Gaps.
This event was part of the World Bank Group's yearlong Gender Equality and Development +10: Accelerate Equality initiative. It focused on the virtuous cycle that the adoption of clean cooking can trigger for women: better health, better economic opportunities, increased participation in community affairs, leadership, and overall better gender equality. It provided a voice to representatives from the public and private sector who share d encouraging stories about women able to transition to clean cooking and discussed evidence on what works to enhance gender equality through specific interventions in the clean cooking area.
The event was also the platform for the launching of the new ESMAP report on gender and clean cooking entitled: Opening Opportunities, Closing Gaps: Advancing Gender-Equal Benefits in Clean Cooking Operations.
CHAIR | Gabriela Elizondo Azuela: Practice Manager, ESMAP/World Bank
PRESENTER | Caroline Adongo Ochieng: Energy Specialist Consultant, ESMAP/ World Bank
PANELISTS
Uwera Rutagarama | Director Off Grid and Alternative Energies of Rwanda Energy Group
Sujatha Srinivasan | Director of Servals Automation PVT LTD
Aidan Fitzpatrick | Head of Development & Deputy Head of Mission of the Embassy of Ireland in Addis Ababa
Frank van der Vleuten | Policy Coordinator Climate Finance and Energy at Ministerie van Buitenlandse Zaken, Netherlands
CLOSING REMAKRS | Hana Brixi – Global Director of the Gender Group, World Bank
Contact:  Nathyeli Acuña Castillo