Hydrogen for Development Partnership (H4D)

Why low-carbon hydrogen?
Low-carbon hydrogen is a key enabler in realizing global decarbonization goals and net-zero targets. For low- and middle-income countries, low-carbon hydrogen has the potential to:
Decarbonize hard-to-abate sectors

Grow the economy by attracting investments and creating new green jobs

Enhancing countries' national energy security needs by reducing dependence on imported fossil fuels while also 

Over time lower energy costs
---
The Challenge
In developing countries, governments and private companies must tackle several obstacles to ignite and scale the low-carbon hydrogen industry.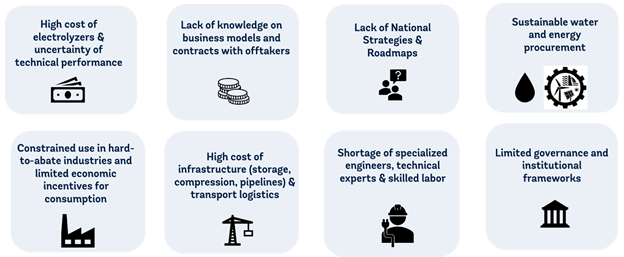 ---
The Power of Partnership
The World Bank Group and its partners have created the Hydrogen for Development Partnership (H4D), a new initiative to help catalyze significant financing for hydrogen investments from both public and private sources. By bringing together hydrogen stakeholders and channelizing synergies, the partnership will foster capacity-building and regulatory solutions, business models, and technologies, toward the roll out of low-carbon hydrogen in developing countries. 
More specifically, H4D will enable:
Convening international cooperation to increase the knowledge base in low-carbon hydrogen technologies for developing countries. 

Building capacities by following a global public goods approach. 

Understanding requirements from emerging markets and the private sector for deploying low-carbon hydrogen. 

Creating market opportunities to inform innovation and for new technologies to gain visibility. 

Generating policy dialogue on enabling the deployment of low-carbon hydrogen across countries.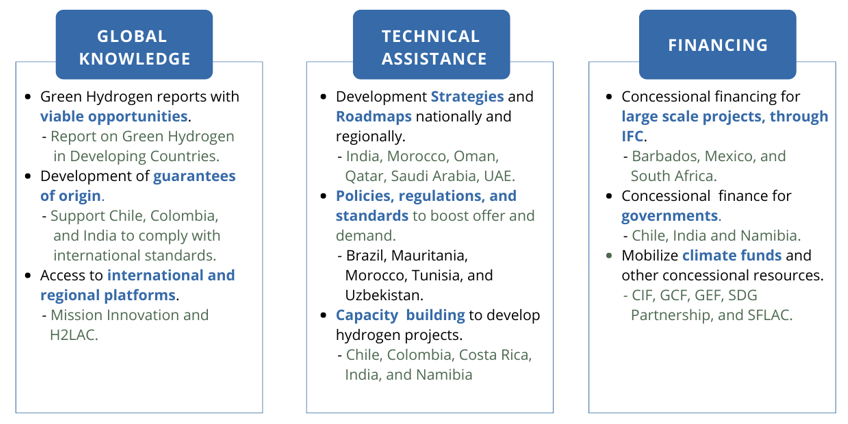 ---
H4D Partners
H4D is open to all hydrogen stakeholders and already counts several industry, academic and research institutions as partners.  Partners will meet bi-annually to agree on the H4D work program, assess progress on approved activities, exchange information on partners' activities, and establish organizational arrangements for the delivery of tasks.
The current list of organizations that are H4D partners include: Green Hydrogen Organization, NREL, Rocky Mountain Institute, Australian Hydrogen Council, RISE Research Institute of Sweden, Center for Hydrogen Energy Systems Sweden (CH2ESS), Chile Green Hydrogen Organization, Hydrogen Council, H2LAC, H2 Colombia, H2 Mexico, Agência de Desenvolvimento do Estado do Ceará (Adece), CORFO.