A New Investment Paradigm for Ending Cooking Poverty
Cooking poverty is one of the most urgent development challenges of our time. Achieving universal access to clean cooking would be a game changer for development, with far-reaching benefits for society. Moreover, the economic benefits make clean cooking one of the smartest investments in development.
Yet, the stark reality is that 2.6 billion people globally are living in cooking poverty, meaning they rely on polluting, traditional fuels and technologies to cook their meals. The cost to human health, women's productivity, and the environment/climate is conservatively estimated at US$2.4 trillion per year (table 1). Furthermore, about 4 billion people still lack access to modern energy cooking services—that is, cooking solutions that are clean, efficient, convenient, safe, reliable, and affordable.
"Every dollar spent on access to clean cooking would buy almost nine dollars of benefits, which is a very good way to help."
Bjørn Lomborg
President, Copenhagen Consensus Center
Why Has Progress Lagged?
Progress on access to clean cooking, a key component for achieving Sustainable Development Goal 7 (SDG 7), has been stymied because the sector has been perceived as:
Orphaned

. Access to clean cooking cuts across multiple sectors but is not prioritized by any and lacks institutional champions.

Invisible

. Women and young children, particularly those from poor households, are the most affected groups, but have the least voice and means of making change.

Expensive.

Households do not prioritize the public benefits of clean cooking (e.g., climate change, health, and gender equality) in their decision-making, which makes the sector less attractive to private investors.
Breaking this impasse requires transformative solutions—both market-based and investment-driven—that improve the overall cooking ecosystem with end users' needs and priorities at the center. Breakthroughs are especially needed in three key, interlinked areas: (1) political commitment, (2) investment, and (3) knowledge and innovation.
Shifting the Paradigm
The World Bank's Clean Cooking Fund, launched by the Energy Sector Management Assistance Program (ESMAP) at the 2019 UN Climate Action Summit, is the largest dedicated fund for galvanizing political commitment, scaling up public and private investment, and catalyzing innovation. With a five-year funding target of US$500 million, the Fund aims to leverage at least US$2 billion in investments to help 200 million people gain access to clean cooking while supporting development of the clean cooking market (Box 1).
"When we talk about the opportunity for a more sustainable recovery, apart from using the stimulus to build 'green' infrastructure, we should consider clean cooking as an essential service and a critical part of the pandemic response."
Mari Pangestu
Managing Director of Development
Policy and Partnerships, World Bank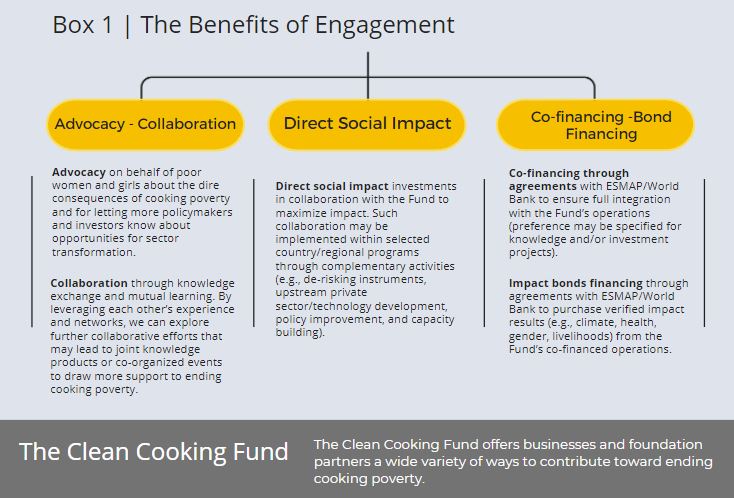 The Clean Cooking Fund is structured to support the strengthening of the clean cooking ecosystem through: (1) knowledge to advance sector understanding; (2) scaled-up investment in on-the-ground country and regional projects and technical assistance support (Box 2); and (3) partnerships, both internal and external, to increase cross-sector synergies and support the prioritization of policies and actions at all levels. Results-based financing (RBF) is used to pay for the verified results of interventions to incentivize supply-chain players, spur market development, and pay for the public co-benefits (health, gender equality, and climate) of interventions.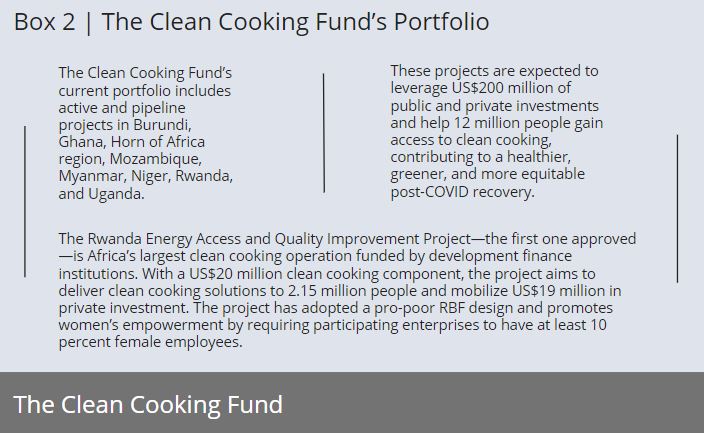 Why Urgent Action Is Needed
Women and children in poor households—among the world's most vulnerable but least visible groups—account for the majority of the nearly 4 million premature deaths that occur every year from household air pollution (HAP) linked to traditional stove-and-fuel use (Box 3). Moreover, nonrenewable wood fuels contribute to greenhouse gas emissions (1 gigaton of CO2 per year), and residential solid fuels account for up to 58 percent of the world's black carbon emissions. Eradicating cooking poverty would be a triple-win for public health, women's empowerment, and the environment/climate.
"Clean cooking must be a political, economic, and environmental priority, supported by policies and backed by investments and multisector partnerships. To make that kind of change, the level of commitment and the scale of investment matter.
The World Bank's Energy Compact presented at the UN High-Level Dialogue on Energy commits support to providing 100 million people with access to clean cooking and up to 60 million people with access to electricity between now and 2025."
Riccardo Puliti
Vice President for Infrastructure, World Bank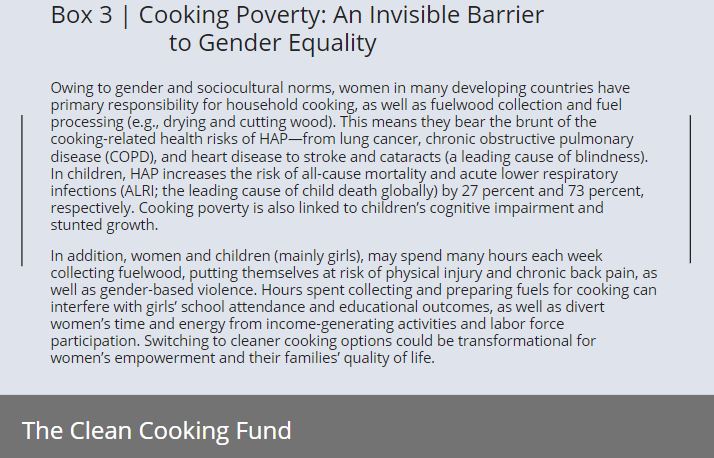 Opportunity for Sector Transformation
Recent trends in prioritizing and designing more effective strategies are gaining momentum. More countries have begun to formalize cooking demand in their national energy planning and strategies with specific targets for meeting the SDGs.
In addition, new technologies, business models, and financing mechanisms are enabling affordable solutions, including the leverage of successes in off-grid electrification, using high-efficiency cooking appliances, the Internet of Things, and pay-as-you-go technologies. Furthermore, the understanding of household cooking-energy needs, and sector dynamics is growing thanks to the availability of more in-depth data and research tools. Also, more financial resources are moving in the direction of access to clean cooking. The World Bank's RBF programs in such countries as Bangladesh, China, Indonesia, Lao PDR, and Uganda have demonstrated the instrument's effectiveness in using public resources to incentivize the private sector to develop the clean cooking market.
Changing the Game Together
Now, more than ever, we need to direct our collective resources toward solving the problem of cooking poverty. The enormous benefits to society far outweigh the astronomical costs of not taking action. Let's invest in this opportunity together for the sake of healthier families, women's empowerment, and a greener planet. 
Contact:  Yabei Zhang at esmap@worldbank.org