Helping Developing Countries Reform Energy Subsidies and Create Fiscal Space for Public Investments
Background
An energy subsidy is a deliberate government action targeting electricity, fossil fuels, or district heating, which reduces the cost of energy purchased, produced, or delivered,  or increases the revenue of energy suppliers. Energy subsidies are typically provided through transfers of government funds, price controls, and quantity restrictions for energy products. They can also be delivered by eliminating taxes, forgoing other government revenues, and underpricing goods and services needed for energy supply.  The latest figures from a joint analysis by the Organization of Economic Cooperation and Development (OECD) and the International Energy Agency (IEA) indicate that the total global spending on fossil fuel subsidies worldwide almost doubled from US$362.4 billion in 2020 to US$697.2 billion in 2021.
Energy subsidies are often argued to protect poor and vulnerable households and enterprises from high energy costs. However, many subsidies seldom achieve this objective and result in the waste of limited resources. Specifically, broad-based energy price subsidies that keep the price of energy low for all consumers tend to be "regressive," with wealthier households benefiting more from these subsidies compared to the poor. This is because high-income households tend to consume more energy than poor households, and the more energy a household consumes, the greater the subsidy benefits that accrue to them.
By keeping energy prices artificially low, subsidies create economic distortions across an economy by sending inaccurate price signals. This can contribute to excessive energy consumption, along with higher local air pollutants and greenhouse gases, especially where fossil fuels have a substantial role in a country's energy mix. Subsidies also impose a heavy fiscal burden on Governments and divert government resources away from development imperatives such as health, education, social protection, and green infrastructure investments. The opportunity costs of energy subsidies are even higher in developing countries where investment needs in human development and infrastructure are substantial and fiscal resources are limited.
Phasing out energy subsidies is pivotal to for decarbonizing the energy sector and facilitating a clean energy transition. Indeed, the importance of action in this sphere is emphasized in the context of the alignment of country energy policies with the 2030 Agenda for Sustainable Development, 2015 Paris Climate Change Agreement, and 2021 Glasgow Climate Pact. Moreover, in the World Bank's Climate Change Action Plan (CCAP) 2021-2025, supporting client countries in reforming energy subsidies is reflected as a priority area in the energy sector.
Reforming energy subsidies is challenging, as is making those reforms sustainable.  While there is no single recipe for success, country experiences demonstrate the value of having a broad perspective during the reform process. A comprehensive reform effort would need to consider the macroeconomic, fiscal, household, firm, and environmental impacts of subsidies and the political economy within which the reforms are being implemented, to inform communication strategies to foster acceptance and support.
Our Work
ESMAP's Energy Subsidy Reform Facility (ESRF) was established in 2013 to support developing country governments in designing and implementing energy subsidy reform programs. As a demand-driven facility that combines sectoral expertise, ESRF contributes to delivering tailored and timely advice to client countries through World Bank operational and advisory engagements. 
How ESRF works
ESRF supports governments' reform efforts through supporting analytical work, advocacy, and knowledge exchange. The facility supports analytical work on various aspects of the complex energy subsidy reform agenda. These include: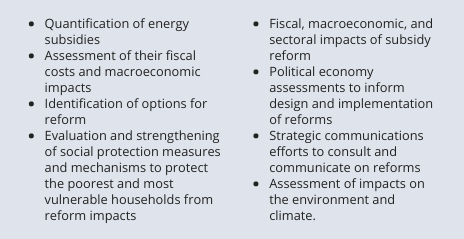 The demand for ESRF support reflects the growing recognition of the need to reform energy subsidies and an appreciation of its challenges.  Between 2013 and 2021, ESRF provided US$24.6 million in Technical Assistance to energy subsidy reform efforts in 65 countries. In 2021, the volume of funding provided by ESRF stood at US$2.5 million and informed the design of nine World Bank lending operations approved in 2020-2021, with a total funding envelope of US$4.2 billion. There are currently 35 grants under implementation, supporting energy subsidy reform for liquid fuels, electricity, and district heating in various regions.  
In addition to supporting in-country analytical work and capacity strengthening, ESRF also supports the expansion of the global knowledge base in energy subsidy reform, by developing knowledge products that provide analytical basis for real-world action.  ESRF also engages in global outreach to diverse stakeholders and communicates on key agenda items.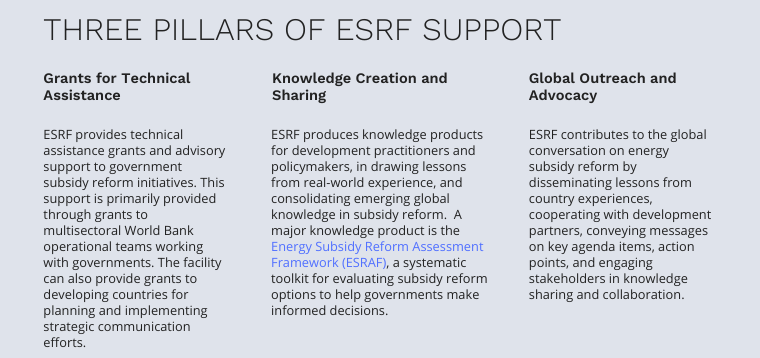 Highlights of recent activities supported
In the Africa region, ESRF supported the development of Utility Performance and Behavior in Africa Today (UPBEAT), a first-of-its-kind platform reporting on financial, operational, and governance performance of 76 power utilities in 45 countries in Sub-Saharan Africa between 2012 and 2018. UPBEAT provides a systemic tracking framework to facilitate understanding of the current state of the energy sector and operational context for each utility. It allows following utility performance over time and comparisons of performance of different utilities, which have critical a critical role in achieving the target for universal access to sustainable and modern energy services by 2030 (SDG7).  In 2022, ESRF continued to support the second phase of UPBEAT data collection for Africa, in addition to early-stage efforts to replicate the tool in other regions. 
In Uzbekistan, an in-depth study of the National Electric Grid of Uzbekistan (NEGU) provided a comprehensive analysis of the financial performance of the utility and risks to its sustainability. The study contributed to the Government's analysis and planning of measures to improve the financial sustainability of NEGU. It also informed the design of the Electricity Sector Transformation and Resilient Transmission Project, financed through a US$380 million World Bank loan which aims to strengthen the  performance of NEGU and provide reliable energy supply to millions of households and businesses. 
In Sudan,  the Energy Sector Recovery Technical Assistance Program, a US$2 million multi-donor program, was initiated in 2019 to support the government in energy subsidy reform, clean energy transition, and energy access. An ESRF-funded policy paper identified energy subsidies as a key challenge for the economy, and assessed savings that subsidy reforms could generate, to benefit the public and improve fiscal sustainability. Consequently, starting in October 2020, the Government of Sudan introduced several reforms to phase out subsidies for gasoline and diesel products. As part of the broader set of reforms in the context of to the country's full re-engagement with the World Bank Group, these reforms paved the way for the country to access nearly US$2 billion in IDA grants for poverty reduction and sustainable economic recovery. 
In Nigeria, an ESRF grant funded an analytical activity that supported the Government in developing scenarios for tariff adjustments that would bring utilities closer to cost recovery. The activity also assessed the fiscal impact of reform and supported stakeholder engagement. The analysis was an input to the government's deliberations and ultimately, the Government decided to increase power tariffs by 38 percent on average in 2020, reducing the sector revenue shortfall by NGN80 billion (US$224 million). 
Contact: Defne Gencer at esmap@worldbank.org