Philippines Offshore Wind Launch | April 20, 2022
Events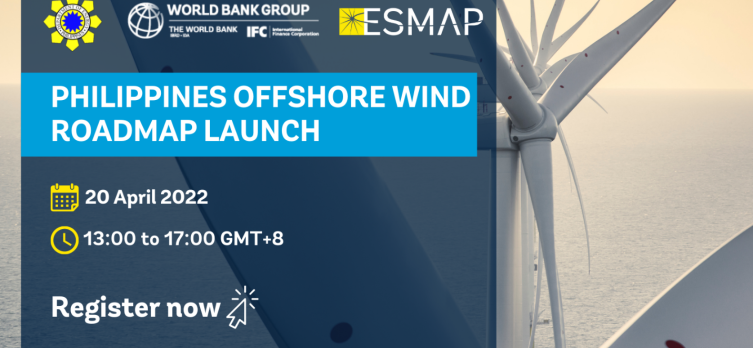 PAST EVENT | Philippines Offshore Wind Launch | April 20, 2022
Venue: VIRTUAL
The Philippines has immense offshore wind potential, with the World Bank estimating over 178 GW of technical offshore wind potential in the country. With a rapidly rising energy demand and goals to increase renewable energy shares to 50% in the country's energy mix by 2040, offshore wind can play an important role in increasing energy security and decarbonization efforts in the Philippines. Building up the country's offshore wind market can also support the growth of many socioeconomic benefits including job creation, local economic growth, and low-cost sustainable energy.
On April 20, 2022, the Philippines' Department of Energy (DOE) and the World Bank Group, with funding from the Energy Sector Management Assistance Program (ESMAP), launched the first-ever Philippines Offshore Wind Roadmap, which will lay out the potential and concrete next steps for developing a robust offshore wind industry in the Philippines. The roadmap launch brought together stakeholders from across the public and private sector to discuss technical, economic, environmental, social, employment, and financing aspects of establishing the country's offshore wind market.
The half-day launch event was open to the public with Q&A. 
Read the Event Program | Download Infograph  | View Presentations
Media coverage: Reuters, Bloomberg, Manila Times, PhilStar, OffshoreWind.biz, Recharge, ReNews
For any questions regarding the event or the roadmap, please contact Alyssa Pek at esmap@worldbank.org. | Find out more about the World Bank Group/ESMAP's Offshore Wind Program.