(In-Person Only) Launch of the Azerbaijan Offshore Wind Roadmap | June 3, 2022 | 8:15-9:45am (EDT)
Events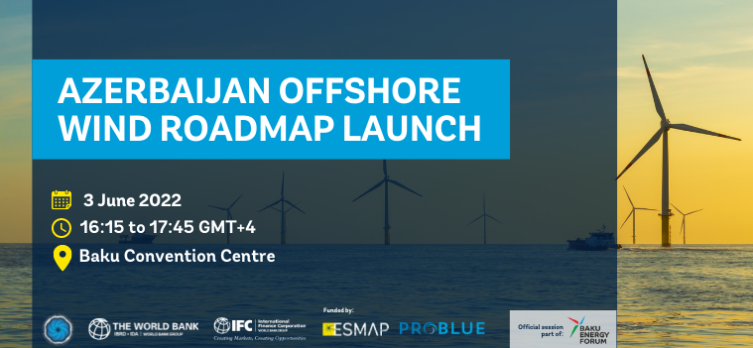 PAST EVENT | (In-Person Only) Launch of the Azerbaijan Offshore Wind Roadmap | June 3, 2022 | 8:15-9:45am (EDT)
Azerbaijan holds immense potential for offshore wind power– a large-scale, low carbon energy source that can be produced locally. According to the World Bank, the country has a technical offshore wind resource of around 157GW – over 20 times the country's current installed energy capacity.
At the Baku Energy Forum 2022, the Ministry of Energy of the Republic of Azerbaijan, the World Bank ("WB") and the International Finance Corporation ("IFC"), with funding from the Energy Sector Management Assistance Program (ESMAP) and PROBLUE, will be launching the first-ever Azerbaijan Offshore Wind Roadmap. This Roadmap will lay out the potential and concrete next steps for tapping into this significant potential, and developing a robust offshore wind industry in Azerbaijan. The roadmap launch will bring together the main stakeholders behind the roadmap, as well as representatives from mature offshore wind countries, to discuss technical, economic, environmental, social, employment, and financing aspects of establishing the country's offshore wind market.
Baku Energy Forum is the ideal stage to launch this momentous roadmap as Azerbaijan takes its first steps towards offshore wind. The event has historically brought together stakeholders from the oil & gas sector, but as the energy landscape has changed to integrate more renewable energy, so too has this important event. Offshore wind is unique in that there are many transferable skills, expertise, and even infrastructure that can be transferred from the oil & gas sector. The Baku Energy Forum is therefore an important opportunity to educate Azerbaijan's energy stakeholders on the opportunities for offshore wind and catalyze this important new industry in the country.
HOW TO JOIN
This launch event is an official session of the Baku Energy Forum, taking place the 2-3 June 2022 at the Baku Convention Centre. For the full program of the conference, please visit: https://bakuenergyforum.az/en-main/
Contact: Alyssa Pek (apek@worldbank.org)