National Workshop: Implementation and Financing Mechanisms in Commercial, Public, and Industrial Buildings Sectors | November 10, 2022
Events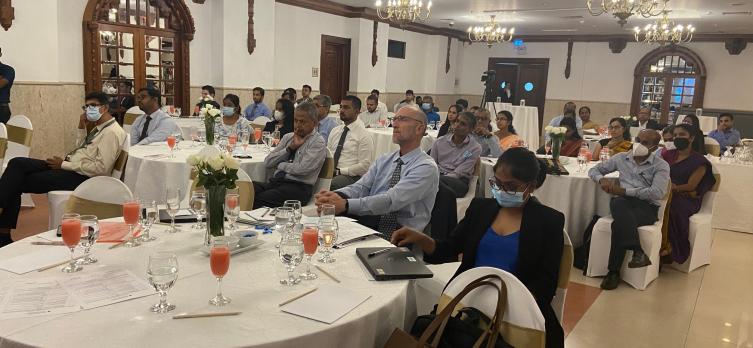 PAST EVENT | National Workshop: Implementation and Financing Mechanisms in Commercial, Public, and Industrial Buildings Sectors | November 10, 2022
Venue: Colombo, Sri Lanka
The Sri Lanka Energy Authority (SEA) held a national stakeholder's workshop on implementation and financing mechanisms in the Sri Lanka buildings sector. This event built on the results of a technical assistance program supported by the World Bank's Energy Sector Management Program, which aims to develop business models and financing mechanisms for a market-driven delivery of energy efficiency (EE) solutions through energy service companies (ESCOs), primarily.
This workshop provided an opportunity to present potential ESCO model designs, transaction structures and templates that will represent the basis for a potential financial support, discuss the specific implementation modalities pertaining to the Sri Lankan context, and share international experiences.
The event was comprised of:
presentations followed by moderated panel discussions; and
a training program on EE monitoring and verification mechanisms.
The target audience consists of ESCOs, technology and equipment vendors, energy auditors, financial institutions, building owners, academics, and other stakeholders active in the energy efficiency sector.
Presentations
Topic

Speaker

Welcome address

Overview of Government's support for large scale program implementation

Mr. Ranjith Sepala, Chairman, Sri Lanka Sustainable Energy Authority

Introductory remarks

Ms. Chiyo Kanda, Country Manager for Sri Lanka and the Maldives, World Bank

Energy efficiency potential in commercial, public and industrial buildings (including EE technologies & measures)

Mahendra Jayalath, CEO, EnergySolve International (Pvt) Ltd

Presentation: Energy Efficiency Potential in Commercial, Public, and Industrial Buildings

ESCO program business models and overview of transaction documents followed by moderated panel discussions

Tanmay Tathagat, Director, Environmental Design Solutions

Presentation: ESCO Program Business Models and Overview of Transaction Documents

Panel discussion 1

 

Theme: Challenges and opportunities of Energy Service Performance Contracts

 

Panel discussion (25 – 30 min)

Open Q&A (15 - 20 min)

Moderator: Saurabh Kumar, Senior Energy Efficiency Consultant, World Bank

Speakers

Madura Piyasena, Managing Director, Energy Management Systems (Pvt) Ltd, Sri Lanka
Alexander Ablaza, Co-Founder, Global ESCO Network, and Co- Chair, Asia-Pacific ESCO Industry Alliance (APEIA) | Presentation: Bridging the Energy Efficiency Capital Gap in the Energy End-Use Sectors through ESCOs
Harsha Wickramasinghe, Deputy Director General, SEA, Sri Lanka
Zaruhi Gharagyozyan, Project Implementation and Procurement Team leader, Renewable Resources and EE Fund, Armenia | Presentation: Procurement of Energy Saving Measures in the Public Facilities - The Armenian Experience

Panel discussion 2

 

Theme: Financing and risk mitigation models for energy efficiency in Sri Lanka

 

 

Panel discussion (25 – 30 min)

Open Q&A (15 - 20 min)

Moderator: Saurabh Kumar, Senior Energy Efficiency Consultant, World Bank

Speakers

Adheesha Chathuranga Perera, Senior Manager Sustainable Banking, SDB Bank, Sri Lanka
Vidarsha Dharmasena, Vice-President, DFCC Bank, Sri Lanka
Alexander Ablaza, Co-founder, Global ESCO Network, and Co- chair, Asia-Pacific ESCO Industry Alliance (APEIA) 
Steve Kromer, Energy efficiency Consultant and Certified Monitoring & Verification Professional
Training program: EE monitoring and verification (M&V)
Contact: Monyl Toga