WB/IMF Annual Meetings Side Event: Accelerating Energy Access for the Poor in Africa Amidst Multiple Crises | October 11, 2022
Events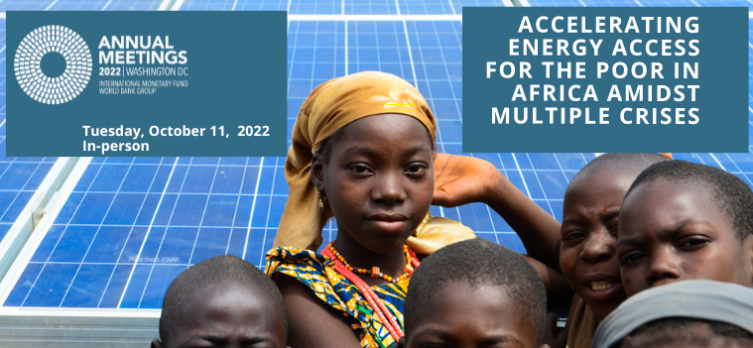 PAST EVENT | WB/IMF Annual Meetings Side Event: Accelerating Energy Access for the Poor in Africa Amidst Multiple Crises | October 11, 2022
Africa is the least electrified region in the world with 568 million people without access to electricity. The challenge to connect rural Africans, those affected by conflict and violence, and the poorest of poor to affordable, reliable, and sustainable electricity has become more urgent and important than ever given the ripple effects of multiple global crises such as COVID 19 and the war in Ukraine. Accelerating the pace of progress to achieve universal energy access in Africa requires bold action and an unprecedented mobilization of public and private investment that is estimated to be over $20 billion a year.
This event will focus much-needed policy attention on the following questions:
What have been the setbacks occasioned in Africa by the pandemic and what are the likely impacts of the current energy crisis on the development community's efforts to power the last mile?
What new tools/approaches/partnerships are necessary to bring access solutions, like off-grid and mini grid solar to the poorest and most remote areas?
What new types of capital (patient capital, impact investment, end user subsidies) can the World Bank Group seek to leverage to attract the necessary private sector investments? And how?
Contact: Lucie Blyth (esmap@worldbank.org)