Energy Storage Partnership Technology Webinar Series: #2 Long-Duration Battery Storage: Enabling a Cost-Effective Clean Energy Transition | May 26, 2022
Events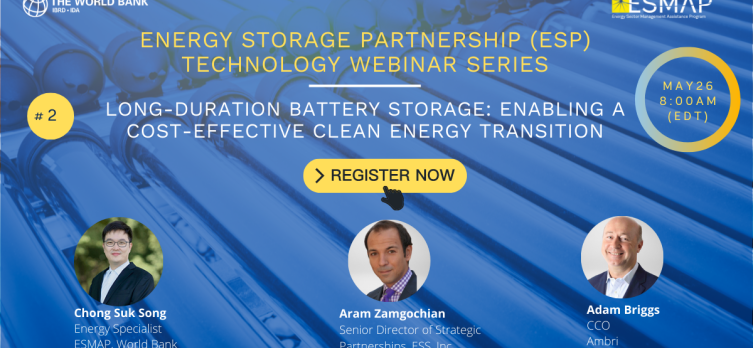 PAST EVENT | Energy Storage Partnership Technology Webinar Series: #2 Long-Duration Battery Storage: Enabling a Cost-Effective Clean Energy Transition | May 26, 2022

As countries pledge carbon neutrality, there is a clear urge for governments to look at technologies that will facilitate the energy transition towards more renewable-based power.
As a result, innovative solutions such as long-duration energy storage will be essential to meet critical challenges of catering to the rising electricity consumption and transforming the power system from fossil-powered generation to renewables.
Currently, lithium-ion has gained an advantage over the current market share on energy storage. However, running power systems that employ little or no fossil fuels also require technologies that can deliver flexibility on times ranging from hours to weeks.
This is a lot more than lithium-ion batteries are capable of, as the latter is more appropriate for short duration use cases.
In this webinar, participants learned more about groundbreaking long-duration battery technologies such as liquid metal and iron flow. They also heard about:
How long-duration battery storage systems enable the transition towards clean, reliable, and affordable power systems
How long-duration storage technologies are positioned in comparison to lithium-ion, cost trends and what this means for the energy transition
How innovative liquid metal batteries have avoided degradation problems that have plagued other battery technologies
How iron flow batteries are made from more sustainable, affordable, and readily available materials that other battery technologies now in the market
THE PANEL

Learn more about the Energy Storage Partnership Technology Webinar Series.
Contact: Alfredo Villavicencio esmap@worldbank.org