WEPOWER Conference Promotes Gender Equality in Energy Sector Across South Asia
News
Story Highlights
On February 20-21, 2019, more than 250 female energy sector professionals and engineering students represented their countries at the first regional WePOWER conference in Kathmandu, Nepal. These included representatives from 60 participating institutions from local and international power utilities and multi-lateral agencies. The conference showed a unanimous consensus to increase women's participation in the energy sector and STEM education.
WEPOWER Conference Promotes Gender Equality in Energy Sector Across South Asia
March 11 2019
More than 250 engineers and energy-sector professionals represented their countries in Kathmandu, Nepal, at the first regional conference of the Women in Power Sector Network in South Asia (WePOWER), a forum that aims to promote and diversify female practitioners' opportunities in the power and energy sector.
They included representatives from 60 participating institutions from local and international power utilities, energy sector organizations, and multilateral agencies.
The conference was organized by the World Bank, with support from the Energy Sector Management Assistance Program (ESMAP), Asian Development Bank (ADB), Australian AID and Australia Department of Foreign Affairs and Trade (DFAT).
The partners agreed to endorse the objectives of the network and implement incremental activities, which are of interest and priority to them, along WePOWER's five pillars: (i) Science, Technology, Engineering, and Mathematics (STEM) education; (ii) Recruitment; (iii) Development; (iv) Retention; and (v) Policy and Analysis. The First Regional Conference of WePOWER held in Kathmandu, Nepal on Feb 20-21 formally launched the network and showcased our partners, their activities, and their goals for the upcoming two years.
"After attending the WePOWER conference, I realize I have so many tasks to do when I go back home. I will motivate the women in my neighborhood, my sister and the primary school girls to join STEM education and work around WePOWER's five pillars. We must be confident and competent and build our own future as resourceful women." 

Priya Singh

Power Engineering Student, Jadavpur University, India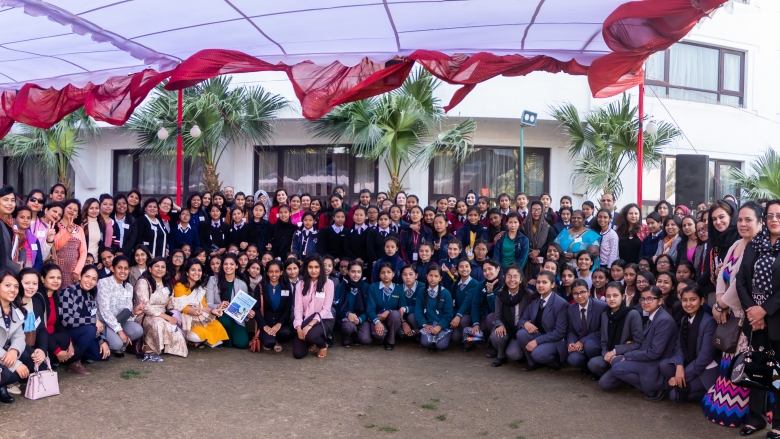 Fifteen insightful sessions were conducted by key experts and women leaders in STEM education and energy sector over the span of two days--see the conference program and booklet of incremental activities here. The conference drew senior and junior professionals and engineering students from Afghanistan, Bangladesh, Bhutan, India, Maldives, Nepal, Pakistan, and Sri Lanka.
Pravin Raj Aryal, Joint Secretary at the Ministry of Energy, Water Resources and Irrigation in Nepal, opened the two-day conference. He emphasized that initiatives such as WePOWER would help nurture partnerships among women professionals, leading to an increase in their engagement across the sector. "This initiative also fits the broader work of the World Bank, aimed at removing constraints for more and better jobs as part of our Gender Strategy." said Idah Z. Pswarayi-Riddihough, World Bank Country Director for Maldives, Nepal, and Sri Lanka. "Women's low participation in the sector is a constraint to gender equality and equality of opportunities. It is imperative for men and women to have access to good quality jobs, and events like WePOWER reinforce this need." said Ms. Caren Grown, World Bank Senior Director of the Gender Group during the keynote speech.
Peter Budd, Australian Ambassador to Nepal, opened the second day of the WePOWER conference. The Plenary Session: Women in Power Sector – Perspectives from the Utilities included high-Level moderated discussions with utilities from South Asia and East Asia. Leaders in the power sector discussed: (i) the current and future state of the power sector; (ii) can a more gender diverse workforce help achieve sector goals; and (iii) how utilities plan to achieve a future with a higher representation of women practitioners. Demetrios Papathanasiou - Practice Manager, South Asia Energy Unitat The World Bank said, "Bringing more than half of the population - females - into the professional energy sector space will improve its performance."
Besides panel discussions on the viability of jobs, skills, and opportunities in the sector, the conference also had a special session, STEM Education - STEM is for Girls! The goal of this interactive game-based learning session was to create a sense of belonging within Science, Technology, Engineering and Mathematics (STEM) subjects for the attending female students and help overcome the stereotyped fear towards STEM fields. The packed room hosted over 90 9th grade secondary school girl students from 8 public and private schools in Kathmandu, Nepal.
The networking lunch on both days was attended by over 250 attendees, mostly South Asia women professionals in energy and students. During an informal session: "Stories of Women in the POWER sector", the women professionals shared the importance of maintaining a healthy work life balance; engaging with men for gender equality; and their experiences while working in a "non-traditional" role as a woman. A video on the objectives of creating the WePOWER LinkedIn Group as a platform for communication and a knowledge hub for women professionals in energy and girls students interested in STEM was also presented.