Energy Assessments and Strategies Publications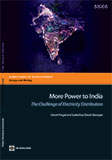 More Power to India: The Challenge of Electricity Distribution
Two decades after the liberalization of India's economy and a decade after the passage of the Electricity Act of 2003, what is the state of India's power sector? More Power to India: The Challenge of Electricity Distribution assesses progress in implementing the government's reform agenda and examines the performance of the sector along different dimensions.Two decades after the liberalization of India's economy and a decade after the passage of the Electricity Act of 2003, what is the state of India's power sector? More Power to India: The Challenge of Electricity Distribution assesses progress in implementing the government's reform agenda and examines the performance of the sector along different dimensions.
---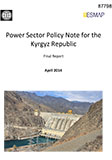 Power Sector Policy Note for the Kyrgyz Republic
This Power Sector Policy Note analyzes the principal challenges in the power sector of the Kyrgyz Republic and identifies possible solutions for overcoming them.  It also describes the legal, regulatory and institutional arrangements in the sector, and compares the arrangements in the Kyrgyz Republic to those in other countries' power sectors.  The analysis in the Note is targeted to inform, and support for the on-going reform efforts of the Government of the Kyrgyz Republic in the power sector.
---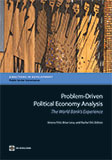 Problem-Driven Political Economy Analysis
Attention to the political and economic incentives that drive policy making and development outcomes has increased among donors over the past 10 years. Significant exploration of a more politically informed approach to development has occurred both within the World Bank and among other donor agencies. This volume is the result of a systematic effort to take stock of what the World Bank has learned from efforts to mainstream this approach.
---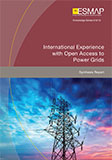 International Experience with Open Access to Power Grids | Synthesis Report

The report on International Experience with Open Access to Power Grids advises World Bank staff and country clients on effective options for open access implementation. The experience from a number of countries has been reviewed from this perspective—including Brazil, Peru, Turkey, India and the Philippines, along with the key elements of the open access models applied in the United States and countries of the European Union.
---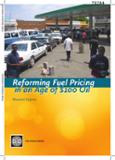 Reforming Fuel Pricing in an Age of $100 Oil
This study focuses on the evolving role of oil in national economies, particularly those of developing countries, and proposes a menu of options for drawing a roadmap for pricing policy reform for oil products. In light of events since 2009, it examines how recent price movements have affected countries' vulnerability to world oil price increases, how governments have adjusted domestic fuel prices in response, the consequences of the policy responses, other coping mechanisms to deal with high oil prices and price volatility, the roadblocks to reforming pricing policy, and how to deal with them.
---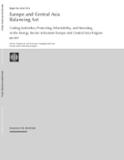 Europe and Central Asia Balancing Act : Cutting Subsidies, Protecting Affordability, and Investing in the Energy Sector in Eastern Europe and Central Asia Region
This is the first report to assess the distributional impact of raising energy tariffs to cost recovery levels and to simulate policy options to cushion these impacts for the Eastern Europe and Central Asia region at the micro level. The analysis relies on a unique database of standardized household surveys that covers the majority of countries in the region.
---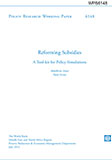 Reforming Subsidies: A Tool-kit for Policy Simulations.  Middle East and North-Africa Region, World Bank, Washington
The paper provides basic guidelines and tools for simulating subsidy reforms with Stata using a single cross-section survey. Simulations are discussed under a partial equilibrium and medium-term framework using a marginal approach. The paper distinguishes between single priced products, such as fuel or bread, and multiple priced products, such as household utilities.
---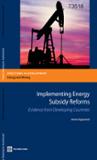 Implementing Energy Subsidy Reforms : Evidence from Developing Countries
This report selected a representative sample of case studies in 20 developing countries, based on a number of criteria, including the countries' level of development (and consumption) and energy dependency (distinguishing between net energy exporters and importers). The objective is to analyze the hypothesis that energy dependence and per capita income appear to be the key drivers of subsidy reforms in developing countries. 
---

Modernization of the District Heating Systems in Ukraine: Heat Metering and Consumption-Based Billing
District heating plays a critical role in meeting basic heating needs in Ukraine, but the sector faces serious challenges that must be resolved to avoid collapse. This report looks at heat metering and consumption-based billing as critical steps needed to addressing these challenges, as well other reforms such as building energy efficiency improvements and regulatory reform.
---

Mitigating Vulnerability to High and Volatile Oil Prices
This study responds to the needs of policy makers and energy planners in oil-importing countries to better manage exposure to oil price risk. The study's objective is threefold. First, it analyzes the economic effects of higher and volatile prices on oil-importing countries, with emphasis on the power sector, using examples from Latin America and the Caribbean (LAC). Second, it proposes a menu of complementary options that can be applied over multiple time frames. Several structural measures are designed to reduce oil generation and consumption, while a range of financial instruments are suggested for managing price risk in the short term. Finally, it attempts to quantify some of the macroeconomic and microeconomic benefits that could accrue from implementing such options.
---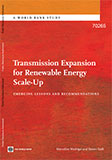 Transmission Expansion for Renewable Energy Scale-Up Emerging Lesson and Recommendations
The objective of this report is to present emerging lessons and recommendations on approaches to efficiently and effectively expand transmission networks for renewable energy scale-up. The report focuses on the planning and regulatory aspects of transmission expansion that are relevant to transmission utilities and electricity regulators.
---

Revisiting Policy Options on The market Structure in the Power Sector
The study specifically examines whether power system size and country per capita income can be reliable indicators of initial conditions for guiding policy on power market structure. This guidance is needed to address issues such as whether there are solid foundations for recommending vertical unbundling for small power systems in low-income countries, particularly in the absence of short term privatization prospects.
---

Electricity Auctions:  An Overview of Efficient Practices
This document serves to disseminate knowledge about some of the key issues and options pertaining to electricity auctions. It is also our hope that the information and analyses set out in this report will benefit World Bank client countries, as well as energy specialists in all countries, in gaining an appreciation for the challenges that may lie ahead, and the potential benefits of implementing electricity auctions to enhance power sector competitiveness.
---

Organizational Transformation and Public Private Partnerships: Maharashtra State Electricity Transmission Company Limited (MSETCL) | Outcomes from the Capacity Building Initiative
The objective of this report is mainly summarizing the activities undertaken under the Technical Assistance (TA) program. This note also seeks to share the experience of Maharashtra in undertaking fast track transmission infrastructure development through a well formulated Strategic Alliance Approach and putting in place improved business processes/ organizational structures, to effectively implement this approach, with other states/stakeholders in the country.
---

Regional Power Sector Integration: Lessons from Global Case Studies and a Literature Review
This briefing note draws from the experiences of Regional Power Sector Integration (RPSI) schemes around the world to present a set of findings to help address these challenges. It is based on case studies of 12 RPSI projects and how they are dealing with key aspects of RPSI.
---

Petroleum Product Markets in Sub-Saharan Africa: Comparative Efficiency Analysis of 12 Countries
This report focuses on Burkina Faso, Côte d'Ivoire, Mali, Niger, and Senegal in West Africa and Botswana, Kenya, Madagascar, Malawi, South Africa, Tanzania, and Uganda in East and Southern Africa, covering a wide range of conditions that affect price levels, such as the market size, geography (whether landlocked or coastal), existence of domestic refineries, degree of sector liberalization including pricing, and level of economic development.
---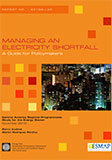 Central America Regional Programmatic Study for the Energy Sector | Managing an Electricity Shortfall Guide for Policymakers
The World Bank has undertaken a series of studies to better understand the energy challenges facing these six countries of Central America that are to be joined by SIEPAC and to identify actions to promote the sound development of the sector. These studies have been prepared by a team of policy experts, engineers, and economists as part of an integrated series entitled the Central America Programmatic Energy Studies, with a primary focus on the electricity sub-sector. This report is part of this series.
---

Impact of The Global Financial Crisis on Investments in South Asia's Electric Power Infrastructure
This activity has been carried out under the World Bank's Infrastructure Recovery and Assets (INFRA) Platform. The INFRA Platform has been developed to bridge infrastructure financing, project preparation and capacity gaps resulting from the global financial crisis. The Platform includes a rapid diagnostic tool to identify at-risk infrastructure projects and to develop a medium-term strategy for their financing. Under INFRA, ESMAP is carrying out diagnostic assessments of the power sector covering 20 developing countries. This report is part of this project.
---

Vietnam Gas Sector Development Framework
This Report was prepared at the request of the Energy Department of the Ministry of Industry and Trade (the Ministry). It is intended to serve both as an input to the National Gas Master Plan being undertaken for the Ministry in 2008/2009 by the Vietnam Petroleum Institute and as a set of concrete proposals and options for Vietnam.
---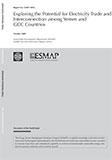 Exploring the Potential for Electricity Trade and Interconnection among Yemen and GCC Countries
 
The key findings of the study are as follows: a) reform of natural gas pricing policies in the GCC countries would encourage the development of gas resources and discourage the use of gas for energy intensive export industries, petrochemicals, aluminum, etc. This will release natural gas for power generation and could release some gas for export either to GCC neighbors or to the rest of the world; and b) there are no benefits to interconnecting Yemen and Saudi Arabia's networks for trade in bulk electricity. Yemen's power system is too unreliable at present to be considered for reserve sharing as a member of the GCC interconnection scheme. Investigation of the Yemen-Saudi interconnection should therefore be postponed.
---

Climate Vulnerability Assessments: An Assessment of Climate Change Vulnerability, Risk, and Adaptation in Albania's Energy Sector
The climate vulnerability assessment framework puts stakeholders at the heart of the decision-making process and involves: i) climate risk screening of the energy sector to identify and prioritize hazards, current vulnerabilities, and risks from projected climate changes out to the year 2050; ii) identification of adaptation options to reduce overall vulnerability; and iii) a high-level cost benefit analysis of key physical adaptation options.
---

Country Energy Sector Vulnerability Assessments Program: Helping Countries Prepare an Effective Energy Sector Response
In response to these challenges, the Energy Sector Management Assistance Program (ESMAP) has launched a large-scale vulnerability initiative aimed at identifying existing and emerging vulnerabilities for policymakers and energy practitioners alike. Specifically, the Country Energy Sector Vulnerability Assessments Program focuses on the impacts of the financial and credit crisis, volatile oil prices, and climate change on the energy sector of developing and transition economies.
---

Syrian Arab Republic Electricity Sector Strategy Note
The report focuses in particular on the following: i) major sector objectives: ii) increasing the efficiency of the electric power sector, including by reducing large technical and commercial losses now standing at 27% of demand; iii) reducing the growing gap between demand and supply of electricity through capacity expansion, thus enhancing security of electricity supply and reducing power outages; iv) increasing security of supply further in an environmentally sustainable manner by developing vigorous energy efficiency and renewable energy programs; Encouraging regional energy integration through a series of targeted investments in electric power and natural gas; v) attracting private sector investment into generation capacity expansion, including in renewable energy, through Independent Power Producers; vi) making the electricity sector financially viable and coordinating natural gas production plans with electricity generation requirements; and vii) introducing electricity sector reforms and associated institutional changes to facilitate and enable the above.
---

Egypt: An Energy Pricing Strategy: A study funded by ESMAP and the World Bank
The purpose of the report is threefold: i) to provide an overview and summarize key aspects of the project, and integrate the main findings that have been presented in a series of separate reports developed during the project; ii) to provide specific recommendations for energy prices and levels, the transition path to full cost-reflective prices and the proposed mitigation support to accompany the pricing reform; and iii) to provide an overview of the organizational arrangements and key actions for implementing the energy pricing strategy.
---

Strengthening Operations and Maintenance Practices In State-Sector Coal-Fired Power Generation Plants in India
This report serves as a guide for the utility senior management and other sector agencies on the key steps for strengthening the Operations and Maintenance Practices in state-sector coal-fired power generation plants in India. The report primarily focuses on managerial and organizational aspects of power plant operation and maintenance and brings out possible interventions in these areas for enhancing power plant performance. While it refers to some technical aspects of plant performance in context of managerial and organizational interventions, it does not purport to be a technical guide on O&M of power plants.
---

A Citizen's Guide to National Oil Companies
paper is an informal document intended to provide input for the selection of a sample of representative national oil companies to be analyzed within the context of the launched in March 2008 by the Oil, Gas, and Mining Policy Division of The World Bank.
Formal Report | Volume 2. Case Studies | Volume 3. Data Set
.
---

Egypt: Development of a Load Management Program and Design of Time of use/Seasonal Pricing
This Final Report is structured as follows; Section 2 provides an overview of the process of TOU tariff setting and rate design, Sections 3 and 4 summarize the experience of TOU tariffs and load management contracts in the MENA region (Section 3) and internationally (Section 4), Section 5 summarizes the methodologies used in the development of TOU pricing mechanisms and load management contracts, Section 6 describes the marginal costs which are a key driver of the tariff designs, Section 7 presents the analysis of the demand response to TOU tariffs, Section 8 describes the design of the conventional TOU tariffs, Section 9 discusses special TOU contracts, Section 10 describes the design of interruptible contracts, Section 11 describes the design of TOU power purchase contracts, Section 13 describes the implementation plan for TOU pricing and load management contracts, there are also annexes providing supporting information and analysis.
---

Implementing Power Rationing in a Sensible Way: Lessons Learned and International Best Practices
In this publication, the authors examine energy crises that have occurred in a number of countries, particularly Brazil. They provide pragmatic suggestions to stakeholders—including governments, utilities, consumer advocates, and others—to help avoid power crises or at least mitigate their impact when they do occur. 
---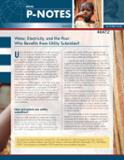 Water, Electricity, and the Poor : Who Benefits from Utility Subsidies?
This publication brings together empirical evidence on subsidy performance across a wide range of countries. It documents the prevalence of consumer subsidies, provides a typology of the many variants found in the developing world, and presents a number of indicators useful in assessing the degree to which such subsidies benefit the poor, focusing on three key concepts: beneficiary incidence, benefit incidence, and materiality.
ESMAP | Energy Assessments and Strategies | News | Blogs | Achievements | Events | Publications