City Energy Efficiency Assessments: Mayoral Guidance Note #5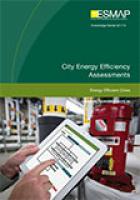 City Energy Efficiency Assessments: Mayoral Guidance Note #5
Cities account for about two-thirds of the world's final energy consumption. This share is projected to be almost three-quarters by 2030 due to continued urbanization in developing countries (IEA 2008). Using energy more efficiently increases cities' competitiveness and livability, and is one of the most important actions to mitigate climate change.
For cities that want to take concrete actions on improving energy efficiency, it is essential to understand what, where, and how big the potential energy-saving opportunities are, what measures are needed to capture the savings and at what costs, what the implementation constraints are, and how priorities should be set given local capacity and resources. An energy efficiency assessment can provide the necessary clarity on these issues.
This guidance note provides an introduction to the objectives, scope, and outputs, as well as the basic steps and approaches of conducting the three types of energy efficiency assessments. It may be used as a general reference for choosing and defining the type of energy efficiency assessment that a city might pursue.
 
Related
Energy Efficient Cities Initiative