Access to public lighting is an important element of international development and LED public lighting provides additional benefits beyond those typically provided by traditional forms of lighting. Its electricity consumption is 40 to 60 percent lower, and the quality of light is generally perceived as better. As a result, ESMAP is providing resources to help clients implement LED programs. Since lighting represents 15 percent (and growing) of world's electricity consumption, this focused support aims to catalyze the transformation of the lighting sector; thus helping reduce unnecessary lighting costs and GHG emissions.
Public LED Lighting
Global public lighting electricity consumption is equivalent to the amount of electricity consumed by Germany—the fourth largest economy in the world. Most public lighting is concentrated in cities, where it can constitute up to 65 percent of municipal electricity budgets. As rural-urban migration continues, and 5 billion people (comprising 60 percent of the world population) are expected to live in cities by 2050, the demand for public lighting is similarly expected to grow. LED public lighting has the potential to help cities significantly lower costs, improve the quality of lighting which in turn improves safety and livability cities.
---
Resources for LED Lighting
    1. Introduction to LED lighting: E-learning Course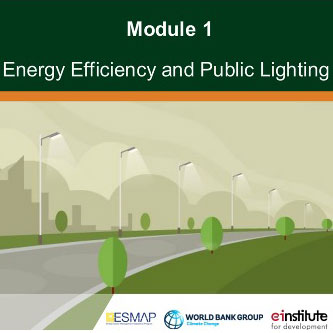 This e-learning provides an introduction and overview of LED lighting. 
Click on the image to enroll.


 2. Public Lighting LED Delivery Models
Cities around the world are using different delivery models depending on their financial capacity, legal, policy, regulatory, and market conditions. This series of six case studies tell the stories of how six cities are implementing or implemented LED public lighting programs. The cross cutting report synthesizes findings from the case studies.
Proven Delivery Models for LED Public Lighting

(Summary, full report to come)

 

A Synthesis of Six Case Studies Illustrating Super-ESCO, Joint Procurement, Public Private Partnership, ESCO, Lease-to-Own, and Municipal Financing Models

 
 

Super-ESCO Delivery Model Case Study, Energy Efficiency Services Limited (EESL),in Vizag, India

 

As a super-ESCO, EESL was set up by the Ministry of Power in India, and has a significant public sector mandate and clientele. It also supports the capacity development and activities of other ESCOs. EESL developed a program in Vizag that replaced 92,000 traditional luminaires with LED luminaires after cyclone Hudhad had destroyed most of the city's  infrastructure.

 
 

Public-Private partnership (PPP) Delivery Model Case  Study, Birmingham, United Kingdom

 

The LED public lighting program in Birmingham was part of a larger PPP encompassing bridges and roads. The private sector financed and implemented the project, then assumed ownership and maintenance of the infrastructure under a 25-year PPP contract in the context of the UK Private Finance Initiative (PFI) framework.

 
 

Joint Procurement Delivery Model Case Study, Ontario, Canada

 

Local Authorities Services (LAS), a nonprofit company wholly owned by the Association of Municipalities of Ontario (AMO), implemented a model in which it competitively procured both the special purpose vehicle that implemented the programs, and the firm that supplied the LEDs to all municipalities.

 
 

Lease-to-own Delivery Model Case Study Guadalajara, Mexico

 

In Guadalajara, a national lighting program provided technical assistance, a private company provided financing with a payment guarantee from the state government (using federal resources), another private company installed the LED luminaires (and assumed the technology and performance risks), and the municipality will assume maintenance.

 
 

Municipal Financing Delivery Model Case Study Quezon City, Philippines

 

In Quezon City, the municipality used its own capital funds to finance the investment. A special purpose vehicle oversaw the retrofits, and the luminaire supplier assumed the technology risk by providing an eight-year product warranty.

 
 

The Privately-owned ESCO Delivery Model Case Study Asian Electronics Limited (AEL) in Central and Northwestern India

 

In a typical ESCO arrangement, AEL financed the investment using its balance sheet along with carbon finance. The municipalities paid for the investments from electricity savings. However, AEL was one of the first ESCOs in India to provide efficient lighting programs and had to overcome several challenges without much of a national ESCO framework.

 

        3.  Implementation Manual

This reports serves as a manual for the implementation of LED lighting programs based on the experiences from India. Among other things it provides templates for investment grade audits, procurement and contracting, tools and matrices.

 

For more information, please contact: Mr. Pedzi Makumbe

ESMAP | Energy Efficient Cities | Achievements | Publications | News | Blogs | Lighting Transformation Initiative