The Future Role of Hydropower in Sub-Saharan Africa | July 8-9, 2023 | Munyonyo, Uganda
Events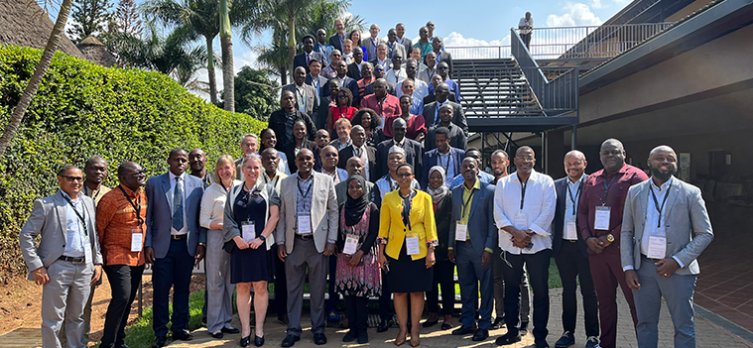 PAST EVENT | The Future Role of Hydropower in Sub-Saharan Africa | July 8-9, 2023 | Munyonyo, Uganda
The Future Role of Hydropower in Sub-Saharan Africa
July 8-9, 2023 | Munyonyo, Uganda
Over 60 participants from 23 countries successfully inspired lively discussions about the future role of hydropower in Sub Saharan Africa with a deep dive into the evolving power systems and how hydropower's unique capabilities contribute towards maintaining balance to enable integration of VRE. #Hydropower #FlexibleHydropower
The event also shared experience and inspired good discussions on the added value of #TheWorldBank's engagement in hydropower projects #RusumoFalls and #Mpatamanga. 
Background
ESMAP's Hydropower Development Facility program started as part of the FY21-24 Business Plan to build a pipeline of sustainable hydropower projects in recognition of its critical role in power system balancing, water resource management, climate mitigation and adoption.
ESMAP HDF supports clients in developing and managing next generation rehabilitation and greenfield project, increasing understanding of technology that is critical to integrating variable renewable energies (VRE) into the power system, and enhancing knowledge on these topics through developing new knowledge products, and outreach activities.
Objectives
The objective of the ESMAP's Hydropower Development Facility event was to share knowledge and experience between mature and emerging markets on flexible hydropower; explore and discuss current and future roles of hydropower in Sub-Saharan Africa; share insights into how the World Bank develops and supports hydropower projects in East and Southern Africa; and (d) explore the future of hydropower in West and Central Africa.
The HDF event aided in building capacity with government and technical participants and provide them with the tools and knowledge to move towards realizing their flexible and sustainable hydropower potential and goals.
---
Agenda and Presentations
Welcome and Opening Remarks
Elin Hallgrimsdottir, Senior Energy Specialist, ESMAP/ World Bank

Mr. Harrison Mutikanga, CEO, Uganda Electricity Generation Company Ltd
---
Sustainable Hydropower Development
Elin Hallgrimsdottir, Senior Energy Specialist, ESMAP/ World Bank (Presentation)
---
Hydropower - the Reliable and Flexible Enabler of the Future Power System in Africa
The Role of Flexible Hydropower
Bente Brunes, Senior Energy Consultant, ESMAP/ World Bank (Presentation) 
The Role of Hydropower in the East African Power Pool
James Wahogo, Secretary General - General Secretariat, East African Power Pool (Presentation)
The Role of Hydropower in the Southern African Power Pool
Stephen Dihwa, Executive Director, Coordination Centre, Southern African Power Pool (Presentation)
The Role of Hydropower in the Western African Power Pool 
Mingdièbe Kanfor-Lare, Technical Project Director, Western African Power Pool (Presentation)
---
Roundtable on the Role of Flexible Hydropower in Evolving Power Systems
Moderator
Bertrand Mayeur, Senior Energy Specialist, World Bank
Panelists
Bente Brunes, Senior Energy Consultant, ESMAP/World Bank

James Wahogo, Secretary General - General Secretariat, East African Power Pool

Stephen Dihwa, Executive Director, Coordination Centre, Southern African Power Pool

Mingdièbe Kanfor-Lare, Technical Project Director, Western African Power Pool

Dr. Ing. Klaus Jorde, International Energy Agency Technology Collaboration Program on Hydropower
---
East and Southern African Hydropower Projects
Rusumo Falls Regional Hydropower Project
Laurencia Karimi Njagi, Senior Energy Specialist, World Bank (Presentation)
Mpatamanga Hydropower Project
Rikard Liden, Lead Energy Specialist, World Bank (Presentation)
World Bank Environmental and Social Framework (ESF) 
Alphonse Emadak, Senior Environmental Specialist, World Bank (Presentation)
---
Roundtable on the Added Value of World Bank Engagement in Hydropower Projects
Moderator
Bertrand Mayeur, Senior Energy Specialist, World Bank
Panelists
Laurencia Karimi Njagi, Senior Energy Specialist, World Bank

Alphonse Emadak, Senior Environmental Specialist, World Bank

Rikard Liden, Lead Energy Specialist, World Bank

Steven Bihinda, Renewable Energy Senior Engineer, Rwanda, Ministry of Infrastructure

Khumbolawo Lungu, Principal Energy Officer, Malawi, Department of Energy
---
West and Central Africa Hydropower
Welcome Remarks and Presentation of World Bank Strategy for West and Central Africa
Pravin Karki, Senior Energy Specialist, World Bank (Presentation)
Private Company Experience in Nigeria's Power Sector
Engr. Lamu Audu, Managing Director / CEO of Mainstream Energy Solutions Ltd (Presentation)
Synergies of Renewable Energy Resources Working Together in a Changing Climate
Prof. Dr. Sebastian Sterl, Senior Research Associate on Clean Energy Transitions at WRI Africa (Presentation)
Optimizing Hydropower Design to Support Renewables Integration
Diego Vilanova, Vice President Market Management for Africa at Andritz Hydro GmbH (Presentation)
Closing Remarks
Elin Hallgrimsdottir, Senior Energy Specialist, ESMAP/World Bank
Contact:  Elin Hallgrimsdottir