ESMAP and IFC Organize Third Edition of the Offshore Wind Study Tour | September 22 - October 1, 2022
Events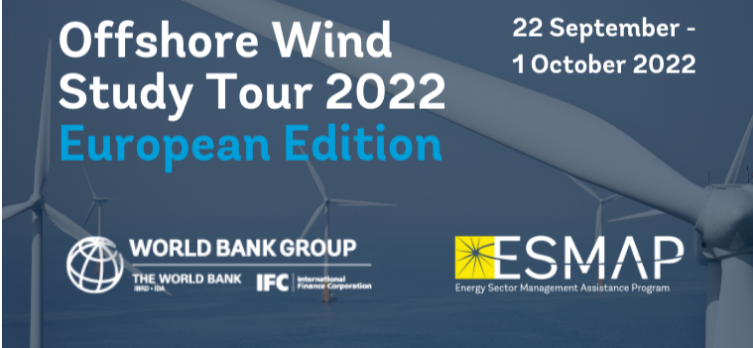 PAST EVENT | ESMAP and IFC Organize Third Edition of the Offshore Wind Study Tour | September 22 - October 1, 2022

About the Study Tour 
This year, as part of the World Bank's Offshore Wind Development Program, ESMAP and IFC are organizing the third edition of the WB's Offshore Wind Study Tour, visiting European countries that have been leading the way in offshore wind. The tour will include site visits, meetings with government officials, industry, supply chain, and other relevant stakeholders over 10 days. This will give delegates a unique opportunity to learn from mature offshore wind markets and better understand the challenges and opportunities, enabling them to apply this knowledge to their own country's offshore wind development.  
From September 22 – October 1, 2022, delegates will visit the Netherlands, Germany, and Denmark. These three countries represent nearly one-quarter of the world's total offshore wind capacity, and delegates will have the chance to experience firsthand how these countries scaled-up their offshore wind markets through policy, frameworks, supply chain development, grid integration, and future plans to couple offshore wind with hydrogen. 
The program for the 2022 edition for the offshore wind study tour is organized in partnership with the Dutch Enterprise Agency (RVO), Danish Energy Agency (DEA), State of Green, and the Global Wind Energy Council (GWEC). 
 About the Delegates 
Delegates of the study tour include senior-level civil servants and other decision-makers from national and state ministries responsible for developing offshore wind in their respective countries. 
The countries represented on the tour all have high potential for offshore wind and are the next generation of offshore wind markets. Together, the countries participating in the study tour hold 4,308 GW of technical offshore wind potential – or nearly 78 times the world's current offshore wind capacity.  
Considering that the International Renewable Energy Agency (IRENA) is calling for at least 2,000 GW of offshore wind globally by 2050 to reach net zero, tapping into the offshore wind potential of the countries in this delegation will be crucial to rapidly decarbonize the world's energy systems and provide new socioeconomic opportunities for these countries.