Sustainable Energy for All (SE4All), a global coalition of governments, private sector, civil society and international organizations, aims to deliver universal access to electricity and safe cooking solutions, while also doubling the amount of renewable energy in the global energy mix from its current share of 18% to 36%. The initiative also seeks to double the rate of improvement in energy efficiency, reducing the compound annual growth rate of energy intensity to –2.6%. It seeks to reach these targets by 2030.
This initiative was launched in 2011 by United Nations Secretary-General Ban Ki-moon, who now chairs its Advisory Board with World Bank Group President Jim Yong Kim. Its Advisory Board comprises distinguished leaders and experts from around the world who have pledged to act on this vision of a sustainable energy future. The initiative is supported in its work by a global facilitation team led by Kandeh Yumkella, the UN Secretary General's Special Representative for Sustainable Energy.
The World Bank Group (WBG) has launched a series of initiatives to enhance its financing and policy advice to help countries move towards the SE4ALL goals. In Sub-Saharan Africa and developing Asia, the focus is on access, where most of those without electricity live. For middle income countries the focus is on doubling the share of renewables, and on doubling the improvement of energy efficiency.
Since 2012, ESMAP has helped deliver on a number of the commitments that the WBG has made towards the SE4All goals. That support has expanded to encompass a wide range of activities undertaken by ESMAP, other WBG energy teams, and World Bank partners. One of the largest ongoing programs is the SE4All Technical Assistance Program, which works to help countries achieve the goal of universal energy access by 2030.
Complementing this program, ESMAP and the World Bank's Energy Global Practice have established an SE4All Global Knowledge Hub. One of a number of regional and thematic hubs established by SE4ALL, the Global Knowledge Hub is designed to facilitate the creation, enhancement, and exchange of knowledge for the overall initiative.
| | |
| --- | --- |
| | |
|   |   |
| | |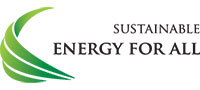 Contact: Ms. Rutu Dave
ESMAP | Energy Access | Sustainable Energy for All (SE4All)