Assessing and Mapping Renewable Energy Resources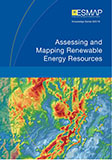 This report draws on many years of experience within the World Bank Group and among other development partners in carrying out renewable energy resource assessments and mapping at the country level, in particular from 12 projects funded by the Energy Sector Management Assistance Program (ESMAP) under a major global initiative launched in 2012.
The report's purpose is to explain, for a wide range of audiences, the importance of resource assessment and mapping, key steps and good practices, and methodological issues. It also identifies potential sources for further advice and support.