Publications
This report has been developed as a part of the assessment of VRE grid integration and evaluation of SCADA and EMS system design in the Pacific Island counties project.
October 18 2019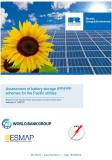 This report establishes the Maldives at the forefront of efforts by developing countries to use energy storage to integrate variable renewable energy to the grid and reduce emissions.
September 30 2019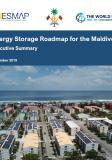 This report provides an overview of energy storage developments in emerging markets along with details on the services ESSs provide at the utility-scale, in buildings, and in remote power systems.
December 31 2017