Report Launch: The Role of Concessional Climate Finance in Accelerating the Deployment of Offshore Wind in Emerging Markets I 6 September 2023 I 9:00-10:00 EST I Online
Events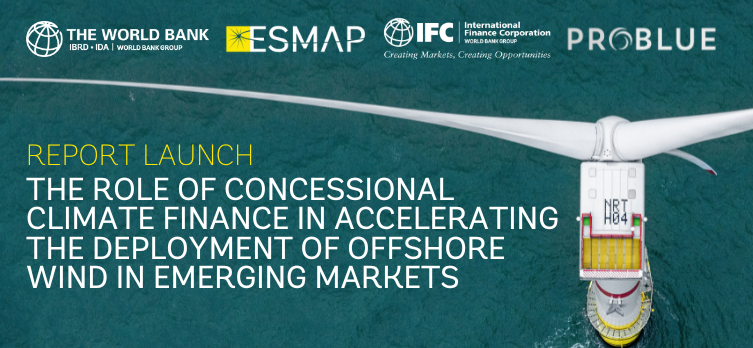 PAST EVENT | Report Launch: The Role of Concessional Climate Finance in Accelerating the Deployment of Offshore Wind in Emerging Markets I 6 September 2023 I 9:00-10:00 EST I Online
Venue: Online
About the event
6 September 2023 I 9:00-10:00 EST I Online 
Offshore wind is critical to achieving global decarbonization goals and net zero emissions to avoid the worst impacts of climate change. It can provide large-scale, clean, reliable electricity generation with the potential to stimulate valuable economic benefits and industrial development. Estimates suggest that 2,000 GW of offshore wind will be needed by 2050 to deliver the energy transition and limit global temperature rise to well below 1.5 degrees Celsius. With developing countries holding around one quarter of the world's technical offshore wind potential, this new capacity will need to be delivered across both established and emerging markets.
Although costs have been decreasing dramatically for offshore wind over the past decade, the first projects in any new market will come at a cost premium as developers, investors, and lenders factor in a wide range of uncertainties, higher costs, and risks. This can be a major roadblock for developing countries who want to tap into their offshore wind potential but need to limit the initial higher costs to reduce the impact on consumers. Consequently, policymakers may find it difficult to commit to offshore wind and thereby delaying the deployment of capacity and its potential to contribute to decarbonization.
A new report by the World Bank Group's Offshore Wind Development Program, jointly led by the Energy Sector Management Assistance Program (ESMAP) and the International Finance Corporation (IFC), addresses this financing gap through analysis of a key solution: concessional climate finance. According to the report, concessional finance and a coordinated public and private sector response together can overcome the initial high-cost barrier for offshore wind in emerging markets, which presents a high-impact opportunity to enable emerging market governments to commit to offshore wind and accelerate global decarbonization efforts.
Re-watch the launch event of the new report "The role of concessional climate financing in accelerating the deployment of offshore wind in emerging markets", to learn more about concessional financing, how it can reduce costs of the first offshore wind projects in emerging markets, what level of financing will be needed to catalyze these markets, how the public and private sector can work together, and what this means for the global offshore wind sector and transition to net zero. 
---
Program
Event hosted by: Gabriela Alizondo Azuela, Practice Manager, ESMAP
Opening Remarks
Demetrios Papathanasiou, Global Director - Energy and Extractives, World Bank
Jamie Fergusson, Global Director, Climate Business, IFC
Concessional Financing for Offshore Wind: Top 5 Report Takeaways You Need to Know
Sean Whittaker (IFC) and Mark Leybourne (ESMAP), co-leads of the World Bank's Offshore Wind Development Program
Roundtable Discussion
Hanne Jersild, Chief Advisor, Ministry of Climate, Energy and Utilities (Denmark)
Mitul Mistry, Team Manager - Multilateral Programmes, Department for Energy Security and Net Zero (UK)
Rebecca Williams, Global Head of Offshore Wind, GWEC
Closing Remarks
Diep Nguyen van-Houtte, Senior Manager, Innovation and Business Development, IFC
---
For any questions about the report or launch event, please contact Mark Leybourne (mleybourne@worldbank.org) and Alyssa Pek (apek@worldbank.org).