ESMAP's 2011 Annual Knowledge Exchange Forum: a Snapshot of the Day's Events
News
ESMAP's 2011 Annual Knowledge Exchange Forum: a Snapshot of the Day's Events
March 30 2011
ESMAP  hosted its second annual Knowledge Exchange Forum in Washington DC on March 17, 2011. The full day event highlighted innovative approaches undertaken by ESMAP and World Bank task teams to influence energy policy formulation in countries through analytical and advisory services, knowledge exchange activities and training events aimed at sharing best practices, tools and lessons of experience.
The forum was chaired by Rohit Khanna, ESMAP's Program Manager and opened by Daniel Kammen, Chief Technical Specialist, World Bank. The event brought together about 80 participants, mainly ESMAP's Consultative Group (CG) members, development partners, clients and energy task teams to discuss ESMAP's efforts in supporting and promoting energy access, energy efficiency, renewable energy, energy security and low carbon development options in both emerging and developing economies. The event preceded the annual Donor Consultative Group meeting for Energy Trust Funded Programs of the World Bank.
The scope of ESMAP's support to client countries was showcased by bringing together speakers from around the world on various topics within the energy sector - from Armenia's work on Energy Efficiency to Tanzania's innovation in service delivery to India's sector transformation. ESMAP's analytical work was featured in a presentation on Egypt's Power Sector Vulnerability study, Morocco's study on Concentrated Solar Power and Mexico's work on Low Carbon Development. ESMAP's cross-sectoral efforts were discussed within Turkey's program on energy efficiency  and sustainable cities, and Mali's efforts to integrate gender within its rural energy agency. Innovative work on Renewable Energy was featured through a practitioner's roundtable dialogue and a presentation on China's renewable energy study. The full list of speakers and their presentations can be found below.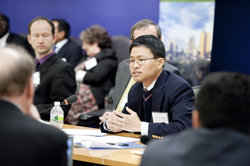 The Agenda and Presentations delivered during the Knowledge Exchange Forum are attached below:

SESSION 1 | BETTER INFORMED POLICY

• Egypt: Power Sector Vulnerability Assessment | Rome Chavapricha, World Bank
• Armenia: EE in Municipal Social Facilities |Tamara Babayan, Renewable Resources & Energy Efficiency Fund (R2E2 Fund)
• Mexico: Low Carbon Development | Todd Johnson, World Bank
SESSION 2 | IMPROVED CLIENT CAPACITY
• India: Sector Engagement and Transformation | Mohua Mukherjee, World Bank
• Mali: Gender Integration in Africa's Energy Projects | Alassane Agalassou, AMADER
• Morocco: MNA Concentrated Solar Power| Badr Ikken, Moroccan Agency for Solar Energy
 
ROUNDTABLE DISCUSSION: Renewable Energy Practitioners

• Namibia: Policy and Country Objectives for Scaling up RE |Kudakwashe Ndhlukula, Renewable
Energy and Energy Efficiency Institute
• Philippines: RE Development from a Regulator's Perspective | Rauf Tan, Energy Regulatory
Commission
• South Korea: Global Green Growth Institute Objectives and Experiences | Taeyong Jung, Global
Green Growth Institute
• USA: Bloomberg New Energy Finance: Overview of RE Market Development Trends |EthanZindler, New Energy Finance
 
SESSION 3 | CUTTING-EDGE ENERGY SOLUTIONS

• Turkey: Electricity Market Reform | Sameer Shukla, World Bank
• Tanzania: Innovation in Delivery of Services | Justina Uisso, Rural Energy Agency
• China: Renewable Energy & Climate Mitigation | Ximing Peng, World Bank
RELATED LINKS